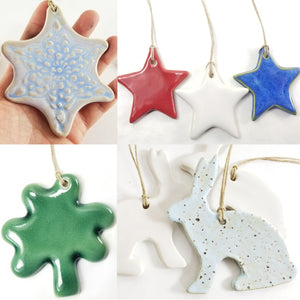 Give as a gift, or treat yourself to 4 holiday ornaments per year (1 per quarter). This subscription is pre-paid, including shipping. You or your recipient will receive a mailed notification of the subscription soon after the order is placed, and then an ornament every quarter that is appropriate for a holiday that falls in the next upcoming quarter (so Christmas ornaments would be mailed some time between July and September, and Valentine's Day ornaments would be mailed some time between October and December, etc. Ship dates are Jan-Mar, Apr-Jun, Jul-Sept, and Oct-Dec. (The photo does not necessarily represent the ornaments that will be provided; ornaments will be randomly selected by me, appropriate for the holiday(s) coming up in the next calendar quarter.)

Please note: I only ship within the USA at these rates. If you wish to have these shipped outside of the USA, please contact me for a custom listing.

Each item is a hand-made (entirely by Erin Sapre), one-of-a-kind creation, and is meant to be used and enjoyed. They will be shipped well-cushioned in recycled materials.

If you would like to focus on particular glaze patterns or themes, just contact me for a custom order. If you would prefer to pay monthly rather than up-front, see my Patreon options at https://www.patreon.com/stellaNCworks (a link is on this website's homepage).