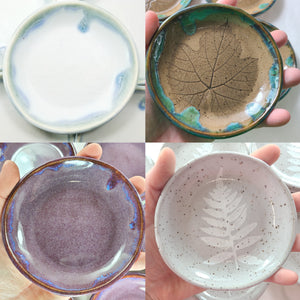 Give as a gift, or treat yourself to 4 small 4-inch dishes per year (1 per quarter). This subscription is pre-paid, including shipping. You or your recipient will receive a mailed notification of the subscription soon after the order is placed, and then a randomly selected (mix of patterns, but all the same size and shape) 4-inch dish every quarter. Ship dates are Jan-Mar, Apr-Jun, Jul-Sept, and Oct-Dec. (The photo does not necessarily represent the dishes that will be provided; dishes will be randomly selected by me, and will normally reflect the styles I am currently working on.)
Please note: I only ship within the USA at these rates. If you wish to have these shipped outside of the USA, please contact me for a custom listing.
These stoneware dishes are food safe, and fine to use in the microwave and dishwasher. Each item is a hand-made (entirely by Erin Sapre), one-of-a-kind creation, and is meant to be used and enjoyed. They will be shipped well-cushioned in recycled materials. 
If you would like to focus on particular glaze patterns or themes, just contact me for a custom order. If you would prefer to pay monthly rather than up-front, see my Patreon options at https://www.patreon.com/stellaNCworks (a link is on this website's homepage).